For In Depth COI (Community Of Interest)
Coverage Click Here

To see MICRC Maps Being Considered, and
Leave a comment with the MICRC Click Here Based on 2016 and 2020 Election results, Census2020, Thank you DistrictR.org team.
---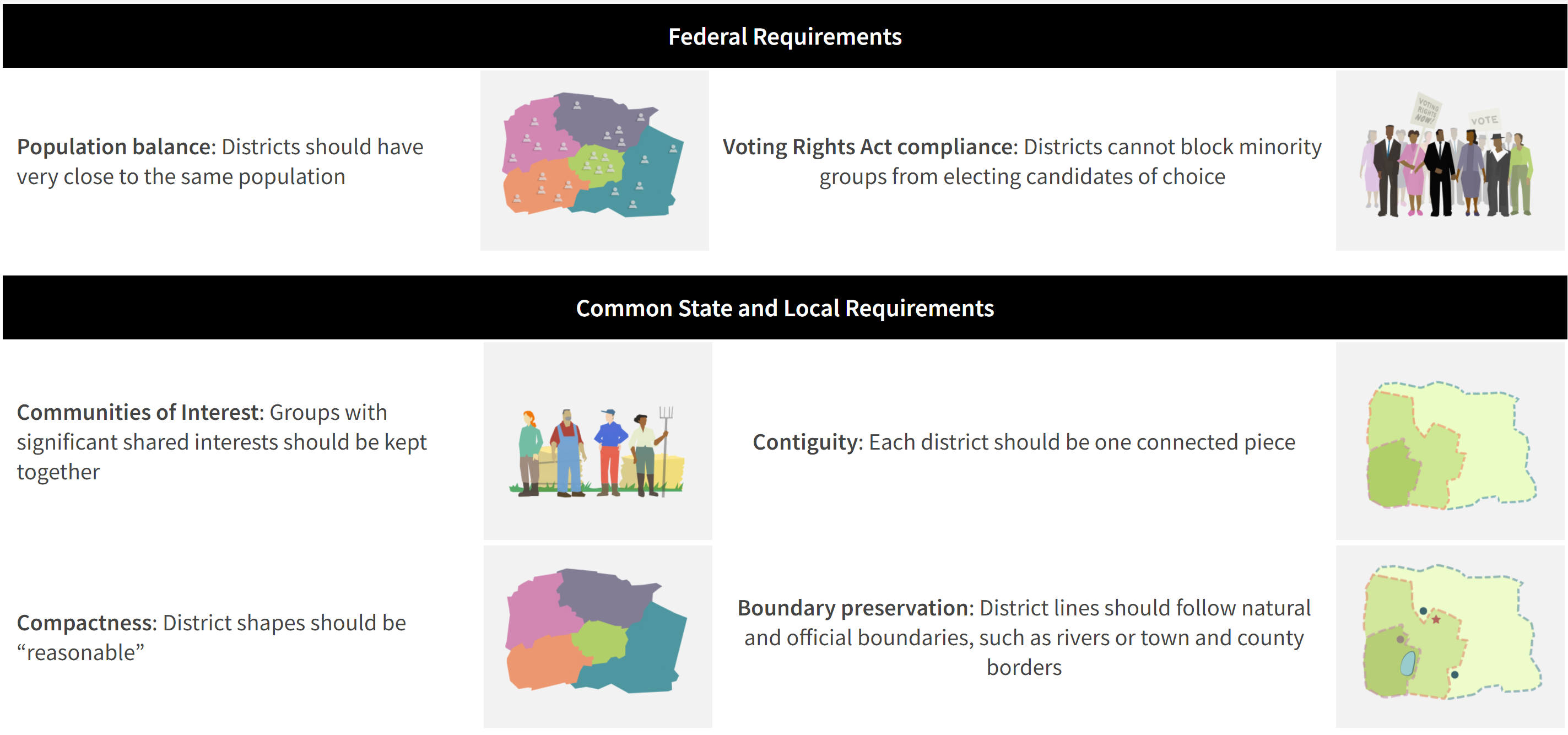 Maps that are being considered are grouped as Congressional, Senate and House Maps.
They are named as trees such as Elm or Cherry. Sometimes they are named after the Comissioner's name that authored the map such as Lange.
Enacted Maps are what is currently in place.
Seat Counts should reflect election results.
Please notice 2016 and 2020 elections listed with Blue numbers indicating Democratic Seats, Red numbers indicating the Republican Seats.
Population Deviation
Lower Numbers are better.
*A COI or a City is considered not covered if no district covers more than 75% of a COI or a City.
Lower numbers better
*VRA (Voting Rights Act) 40% Districts determined by 40% aggregated minority voting population, African American and Hispanic
*VRA 50% Districts determined by 50% African American minority voting population
Higher numbers better.
MICRC Maps
Congressional Maps
Seats
2016
2020
Max Population
Deviation
Cities
Not Covered
COI
Not Covered
VRA40%
VRA50%
Enacted Congressional
5 / 9
6 / 7
-0.86%
2 cities
14 cois
2 districts
2 districts
Szetela
11/09/2021
6 / 7
7 / 6
-0.80%
4 cities
3 cois
2 districts
Chestnut
11/03/2021
6 / 7
7 / 6
-1.62%
2 cities
10 cois
2 districts
Apple V2
11/05/2021
6 / 7
6 / 7
-0.95%
4 cities
5 cois
2 districts
Birch V2
11/07/2021
6 / 7
7 / 6
-0.95%
4 cities
6 cois
2 districts
Lange
11/09/2021
5 / 8
6 / 7
-1.19%
4 cities
3 cois
2 districts
---
State Senate Maps
Seats
2016
2020
Max Population
Deviation
Cities
Not Covered
COI
Not Covered
VRA40%
VRA50%
Enacted Senate
15 / 23
16 / 22
6.30%
3 cities
19 cois
5 districts
4 districts
Lange-Corrected
11/12/2021
17 / 21
20 / 18
-3.16%
8 cities
10 cois
6 districts
Cherry V2
11/02/2021
18 / 20
20 / 18
-5.40%
5 cities
10 cois
6 districts
Palm
11/07/2021
17 / 21
20 / 18
-3.00%
4 cities
10 cois
6 districts
Linden
11/07/2021
18 / 20
21 / 17
-3.70%
5 cities
18 cois
6 districts
Kellom
11/09/2021
19 / 19
20 / 18
3.46%
9 cities
23 cois
5 districts
1 district
Szetela
11/09/2021
18 / 20
21 / 17
-3.16%
5 cities
10 cois
6 districts
---
State House Maps
Seats
2016
2020
Max Population
Deviation
Cities
Not Covered
COI
Not Covered
VRA40%
VRA50%
Enacted House
43 / 67
52 / 58
9.51%
8 cities
19 cois
15 districts
12 districts
HickoryHandled11
12/03/2021
43 / 67
57 / 53
-5.20%
24 cities
19 cois
17 districts
7 districts
Pine 5
11/04/2021
46 / 64
53 / 57
-3.90%
21 cities
22 cois
21 districts
4 districts
Magnolia
11/05/2021
46 / 64
52 / 58
-3.39%
19 cities
21 cois
19 districts
6 districts
Hickory
11/07/2021
46 / 64
53 / 57
-3.90%
19 cities
38 cois
19 districts
6 districts
Szetela
11/09/2021
47 / 63
54 / 56
4.08%
24 cities
32 cois
20 districts
5 districts